The Vintage Chiffon Cake Site
| Welcome | History | Before You Begin | The Original Recipe | Variations | Frostings/Icings, etc. | More Vintage Recipes | About This Site | Updates |
More Classic / Vintage Recipes
Betty Crocker
Vanilla Cream Pie and Variations
(Click to enlarge)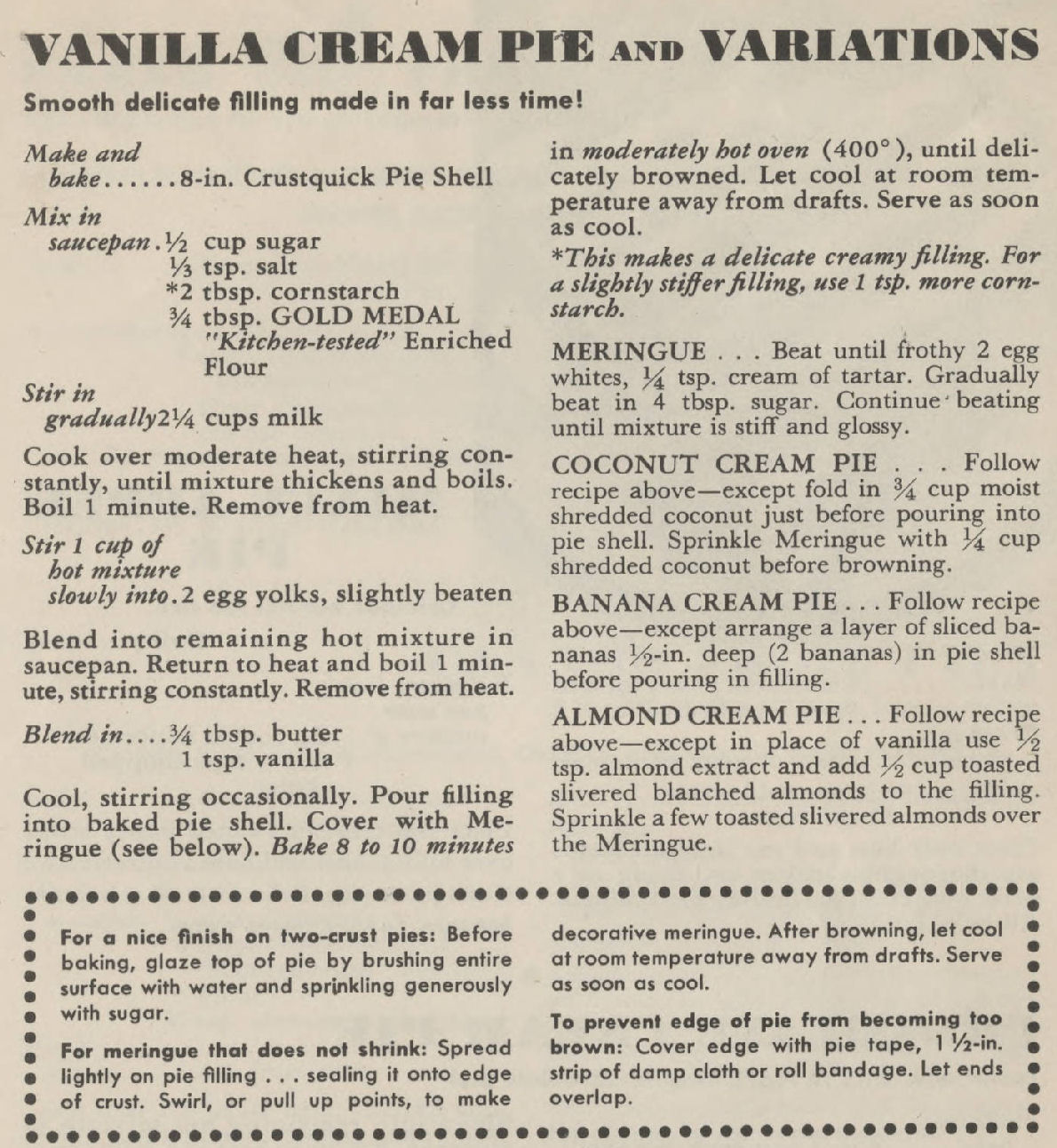 Transcription:

VANILLA CREAM PIE AND VARIATIONS
Smooth delicate filling made in far less time!
Make
and
bake . . . . . . 8-in. Crustquick Pie Shell
Mix in
saucepan . 1/2 cup sugar
1/3 tsp. salt
*2 tbsp. cornstarch
3/4 tbsp. GOLD MEDAL
"Kitchen-tested" Enriched
Flour
Stir in
gradually 2 1/4 cups milk

Cook over moderate heat, stirring con-
stantly, until mixture thickens and boils.
Boil 1 minute. Remove from heat.

Stir in 1 cup of
hot mixture
slowly into . 2 egg yolks, slightly beaten

Blend in . . . . 3/4 tbsp. butter
1 tsp. vanilla

Cool, stirring occasionally. Pour filling
into baked pie shell. Cover with Me-
ringue (see below). Bake 8 to 10 minutes
in moderately hot oven (400°), until deli-
cately browned. Let cool at room tem-
perature away from drafts. Serve as soon
as cool.
*This makes a delicate creamy filling. For
a slightly stiffer filling, use 1 tsp. more corn-
starch.

MERINGUE . . . Beat until frothy 2 egg
whites, 1/4 tsp. cream of tartar. Gradually
beat in 4 tbsp. sugar. Continue beating
until mixture is stiff and glossy.

COCONUT CREAM PIE . . . Follow
recipe above—except fold in 3/4 cup moist
shredded coconut just before pouring into
pie shell. Sprinkle Meringue with 1/4 cup
shredded coconut before browning.

BANANA CREAM PIE . . . Follow recipe
above—except arrange a layer of sliced ba-
nanas 1/2-in. deep (2 bananas) in pie shell
before pouring in filling.

ALMOND CREAM PIE . . . Follow recipe
above—except in place of vanilla use 1/2
tsp. almond extract and add 1/2 cup toasted
slivered blanced almonds to the filling.
Sprinkle a few toasted slivered almonds over
the Meringue.

For a nice finish on two-crust pies: Before
baking, glaze top of pie by brushing entire
surface with water and sprinkling generously with sugar.

For meringue that does not shrink: Spread
lightly on pie filling . . . sealing it onto edge
of crust. Swirl, or pull up points, to make
decorative meringue. After browning, let cool
at room temperature away from drafts. Serve
as soon as cool.

To prevent edges of pie from becoming too
brown: Cover edge with pie tape, 1 1/2-in.
strip of damp cloth or roll bandage. Let ends
overlap.
NOTE: This recipe may be an earlier version of the 5 in 1 Cream Pie.