The Vintage Chiffon Cake Site
| Welcome | History | Before You Begin | The Original Recipe | Variations | Frostings/Icings, etc. | More Vintage Recipes | About This Site | Updates |
More Classic / Vintage Recipes
Betty Crocker
Streusel-Filled Coffee Cake
(Click to enlarge)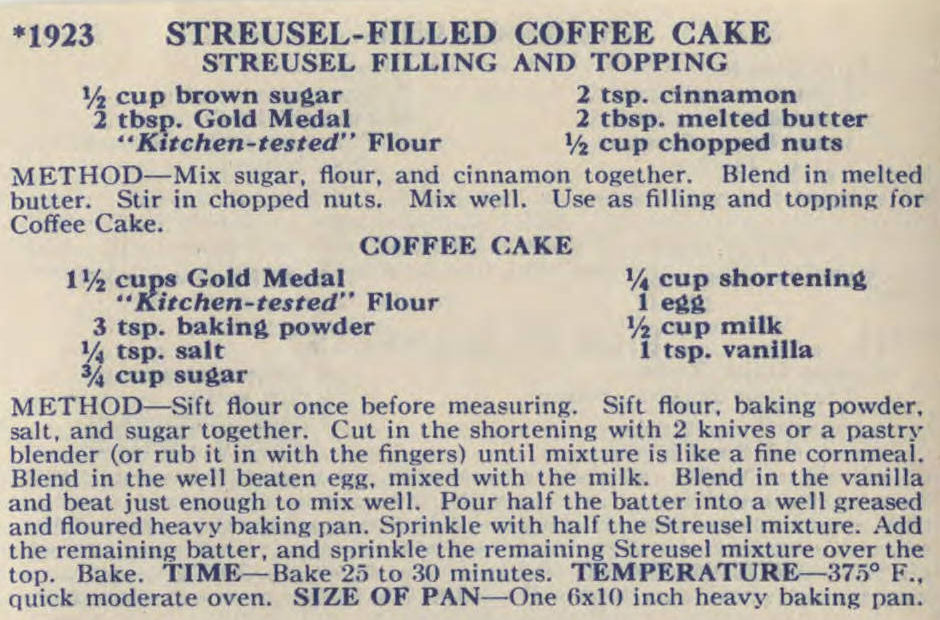 Transcription:

*1923 STREUSEL-FILLED COFFEE CAKE
STREUSEL FILLING AND TOPPING

1/2 cup brown sugar
2 tbsp. Gold Medal
"Kitchen-tested" Flour
2 tsp. cinnamon
2 tbsp. melted butter
1/2 cup chopped nuts

METHOD—Mix sugar, flour, and cinnamon together. Blend in melted
butter. Stir in chopped nuts. Mix well. Use as filling and topping for
Coffee Cake.

COFFEE CAKE

1 1/2 cups Gold Medal
"Kitchen-tested Flour
3 tsp. baking powder
1/4 tsp. salt
3/4 cup sugar
1/4 cup shortening
1 egg
1/2 cup milk
1 tsp. vanilla

METHOD—Sift flour once before measuring. Sift flour, baking powder,
salt, and sugar together. Cut in the shortening with 2 knives or a pastry
blender (or rub it in with the fingers) until mixture is like a fine cornmeal.
Blend in the well beaten egg, mixed with the milk. Blend in the vanilla
and beat just enough to mix well. Pour half the batter into a well greased
and floured heavy baking pan. Sprinkle with half the Streusel mixture. Add
the remaining butter, and sprinkle the remaining Streusel mixture over the
top. Bake. TIME—Bake 25 to 30 minutes. TEMPERAATURE—375° F.,
quick moderate oven. SIZE OF PAN—One 6x10 inch heavy baking pan.

NOTE: This recipe is also known as Prize Coffee Cake.