The Vintage Chiffon Cake Site
| Welcome | History | Before You Begin | The Original Recipe | Variations | Frostings/Icings, etc. | More Vintage Recipes | About This Site | Updates |
More Classic / Vintage Recipes
Betty Crocker
Stir-N-Roll Pastry for Pumpkin Pie (1950)
(Click to enlarge)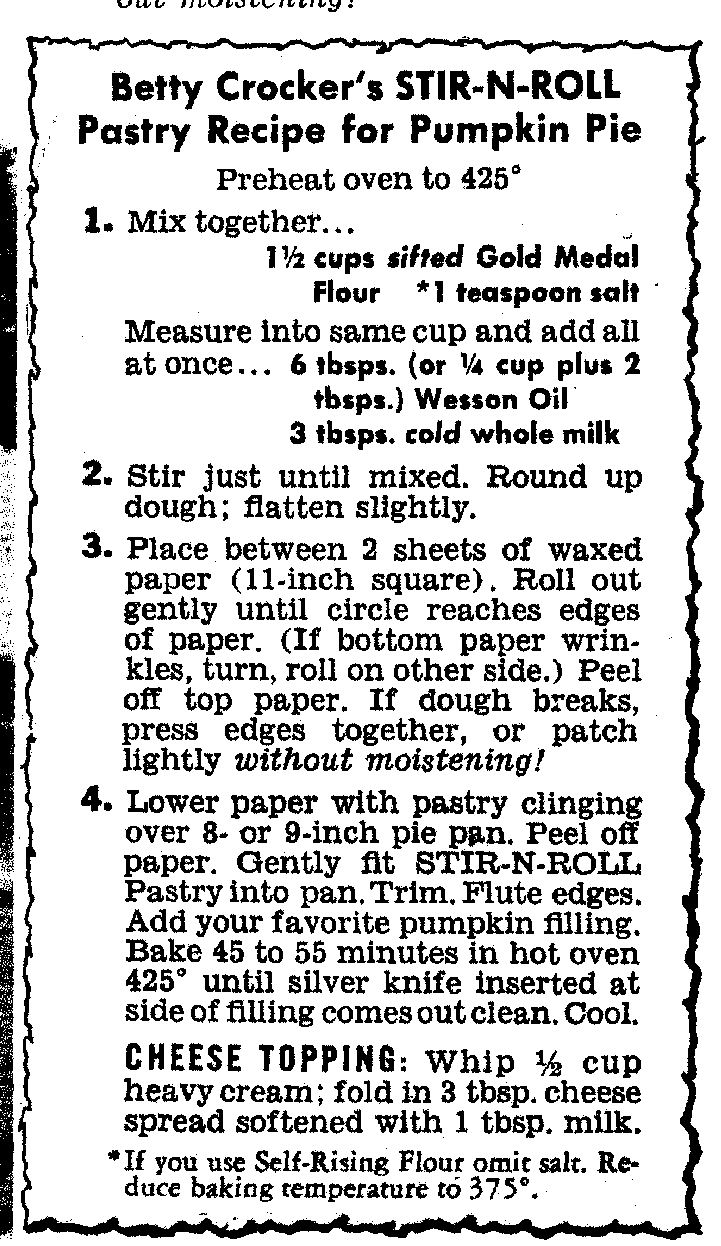 Transcription:

Betty Crocker's STIR-N-ROLL
Pastry Recipe for Pumpkin Pie

Preheat oven to 425°

1.Mix together . . .
1 1/2 cups sifted Gold Medal
Flour *1 teaspoon salt
Measure into same cup and add all
at once . . . 6 tbsps. (or 1/4 cup plus 2
tbsps.) Wesson Oil
3 tbsps.cold whole milk
2. Stir just until mixed. Round up
dough; flatten slightly.
3. Place between two sheets of waxed
paper (11-inch square). Roll out
gently until circle reaches edges
of paper. (If bottom wrin-
kles, turn, roll on other side.)
Peel off top paper. If dough breaks,
press edges together, or patch
lightly without moistening!
4. Lower paper with pastry clinging
over 8- or 9-inch pie pan. Peel off
paper. Gently fit STIR-N-ROLL
Pastry into pan. Trim. Flute edges.
Add your favorite pumpkin filling.
Bake 45 to 55 minutes in hot oven
425° until silver knife inserted at
side of filling comes out clean. Cool.

CHEESE TOPPING: Whip 1/2 cup
heavy cream; fold in 3 tbsp. cheese
spread softened with 1 tbsp. milik.

*If you use Self-Rising Flour omit salt. Re-
duce baking temperature to 375°.