The Vintage Chiffon Cake Site
| Welcome | History | Before You Begin | The Original Recipe | Variations | Frostings/Icings, etc. | More Vintage Recipes | About This Site | Updates |
More Classic / Vintage Recipes
Betty Crocker
Plum Duff
(Click to enlarge)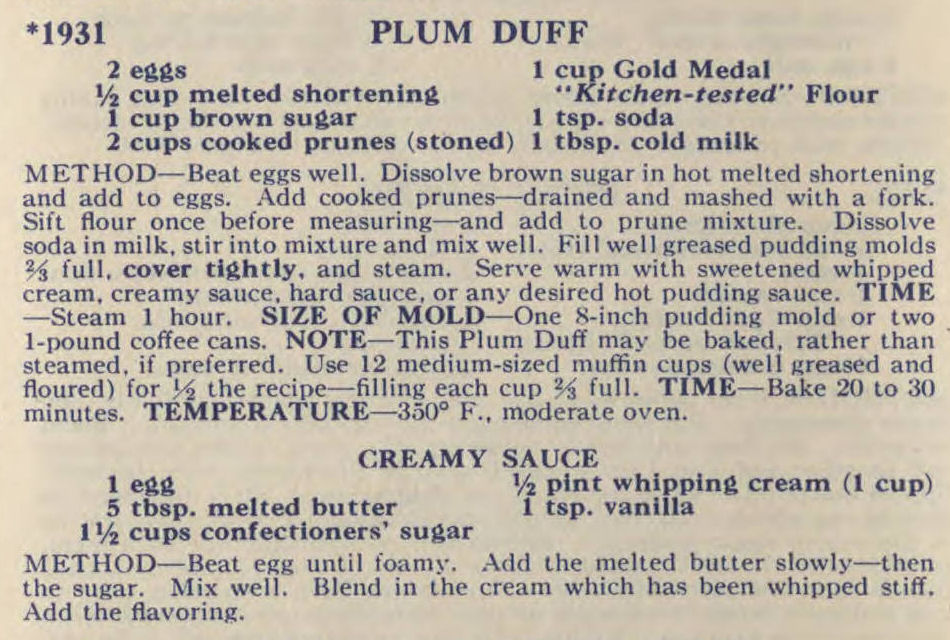 Transcription:

*1931 PLUM DUFF
2 eggs
1/2 cup melted shortening
1 cup brown sugar
2 cups cooked prunes (stoned)
1 cup Gold Medal
"Kitchen-tested" Flour
1 tsp. soda
1 tbsp. cold milk

METHOD—Beat eggs well. Dissolve brown sugar in hot melted shortening
and add to eggs. Add cooked prunes—drained and mashed with a fork.
Sift flour once before measuring—and add to prune mixture. Dissolve
soda in milk, stir into mixture and mix well. Fill well-greased pudding molds
2/3 full, cover tightly, and steam. Serve warm with sweetened whipped
cream, creamy sauce, hard sauce, or any desired hot pudding sauce. TIME
—Steam 1 hour. SIZE OF MOLD—One 8-inch pudding mold or two
1-pound coffee cans. NOTE—This Plum Duff may be baked, rather than
steamed, if preferred. Use 12 medium-sized muffin cups (well greased and
floured) for 1/2 the recipe—filling each cup 2/3 full. TIME—Bake 20 to 30
minutes. TEMPERATURE—350° F., moderate oven.

CREAMY SAUCE
1 egg
5 tbsp. melted butter
1 1/2 cups confectioners' sugar
1/2 pint whipping cream (1 cup)
1 tsp. vanilla
METHOD—Beat egg until foamy. Add the melted butter slowly—then
the sugar. Mix well. Blend in the cream which has been whipped stiff.
Add the flavoring.