The Vintage Chiffon Cake Site
| Welcome | History | Before You Begin | The Original Recipe | Variations | Frostings/Icings, etc. | More Vintage Recipes | About This Site | Updates |
More Classic / Vintage Recipes
Betty Crocker
Pigs in Blankets
(Click to enlarge)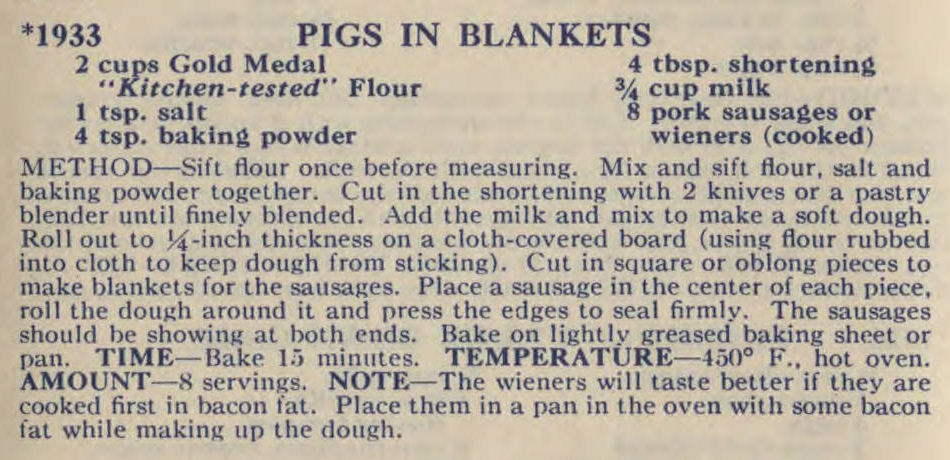 Transcription:

*1933 PIGS IN BLANKETS
2 cups Gold Medal
"Kitchen-tested" Flour
1 tsp. salt
4 tsp. baking powder
4 tbsp. shortening
3/4 cup milk
8 pork sausages or
wieners (cooked)

METHOD—Sift flour once before measuring. Mix and sift flour, salt and
baking powder together. Cut in the shortening with 2 knives or a pastry
blender until finely blended. Add the milk and mix to make a soft dough.
Roll out 1/4-inch thickness on a cloth-covered board (using flour rubbed
into cloth to keep dough from sticking). Cut in square or oblong pieces to
make blankets for the sausages. Place a sausage in the center of each piece,
roll the dough around it and press the edges to seal firmly. The sausages
should be showing at both ends. Bake on lightly greased baking sheet or
pan. TIME—Bake 15 minutes. TEMPERATURE—450° F., hot oven.
AMOUNT—8 servings. NOTE—The wieners will taste better if they are
cooked first in bacon fat. Place them in a pan in the oven with some bacon
fat while making up the dough.