The Vintage Chiffon Cake Site
| Welcome | History | Before You Begin | The Original Recipe | Variations | Frostings/Icings, etc. | More Vintage Recipes | About This Site | Updates |
More Classic / Vintage Recipes
Betty Crocker
Orange Washington Pie
(Click to enlarge)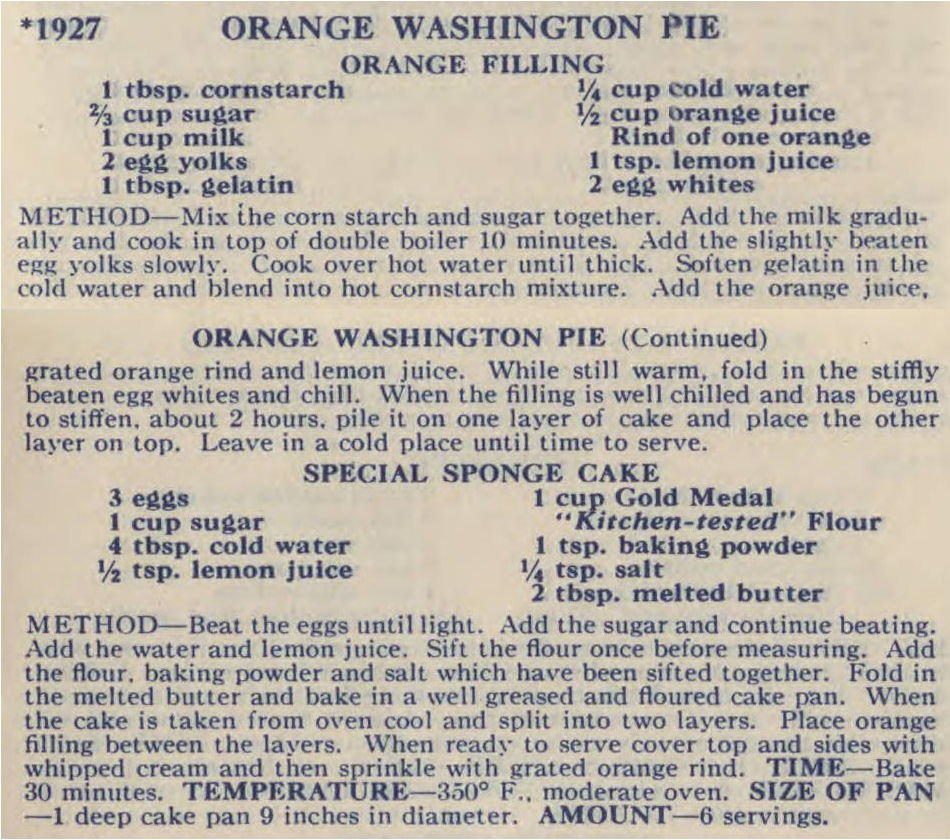 Transcription:

*1927 ORANGE WASHINGTON PIE
ORANGE FILLING
1 tbsp. cornstarch
2/3 cup sugar
1 cup milk
2 egg yolks
1 tbsp. gelatin
1/4 cup cold water
1/2 cup orange juice
Rind of one orange
1 tsp. lemon juice
2 egg whites

METHOD—Mix the corn starch and sugar together. Add the milk gradu-
ally and cook in top of double boiler 10 minutes. Add the slightly beaten
egg yolks slowly. Cook over hot water until thick. Soften gelatin in the
cold water and blend into hot cornstarch mixture. Add the orange juice,

ORANGE WASHINGTON PIE (Continued)

grated orange rind and lemon juice. While still warm, fold in the stiffly
beaten egg whites and chill. When the filling is well chilled and has begun
to stiffen, about 2 hours, pile it on one layer of cake and place the other
layer on top. Leave it in a gold place until time to serve.
SPECIAL SPONGE CAKE
3 eggs
1 cup sugar
4 tbsp. cold water
1/2 tsp. lemon juice
1 cup Gold Medal
"Kitchen-tested" Flour
1 tsp. baking powder
1/4 tsp. salt
2 tbsp. melted butter

METHOD—Beat the eggs until light. Add the sugar and continue beating.
Add the water and lemon juice. Sift the flour once before measuring. Add
the flour, baking powder and salt which have been sifted together. Fold in
the melted butter and bake in a well greased and floured cake pan. When
the cake is taken from oven cool and split into two layers. Place orange
filling between the layers. When ready to serve cover top and sides with
whipped cream and then sprinkle with grated orange rind. TIME—Bake
30 minutes. TEMPERATURE—350° F., moderate oven. SIZE OF PAN
—1 deep cake pan 9 inches in diameter. AMOUNT—6 servings.