The Vintage Chiffon Cake Site
| Welcome | History | Before You Begin | The Original Recipe | Variations | Frostings/Icings, etc. | More Vintage Recipes | About This Site | Updates |
More Classic / Vintage Recipes
Betty Crocker
Old-Fashioned Jelly Roll
(Click to enlarge)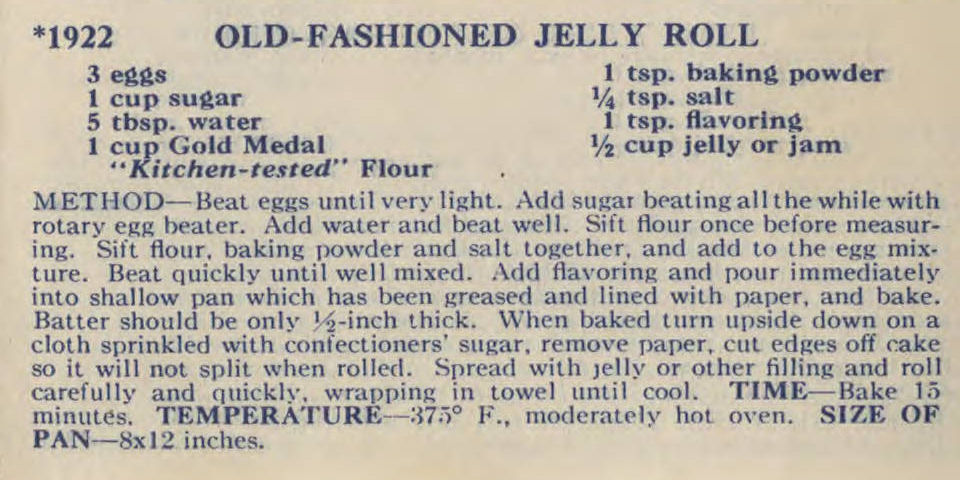 Transcription:

OLD-FASHIONED JELLY ROLL
*1922
3 eggs
1 cup sugar
5 tbsp. water
1 cup Gold Medal
"Kitchen-tested" Flour
1 tsp. baking powder
1/4 tsp. salt
1 tsp. flavoring
1/2 cup jelly or jam

METHOD—Beat eggs until very light. Add sugar beating all the while with
totary egg beater. Add water and beat well. Sift flour once before measur-
ing. Sift flour, baking powder and salt together, and add to the egg mix-
ture. Beat quickly until well mixed. Add flavoring and pour immediately
into shallow pan which has been greased and lined with paper, and bake.
Batter should be only 1/2-inch thick. When baked turn upside down o a
cloth sprinkled with confectioners' sugar, remove paper, cut edges off cake
so it will not split when rolled. Spread with jelly or other filling and roll
carefully and quickly, wrapping in towl until cool. TIME—Bake 15
minutes. TEMPERATURE—375° F., moderately hot oven. SIZE OF
PAN—8x12 inches.