The Vintage Chiffon Cake Site
| Welcome | History | Before You Begin | The Original Recipe | Variations | Frostings/Icings, etc. | More Vintage Recipes | About This Site | Updates |
More Classic / Vintage Recipes
Betty Crocker
Lemon Meringue Pie
(Click to enlarge)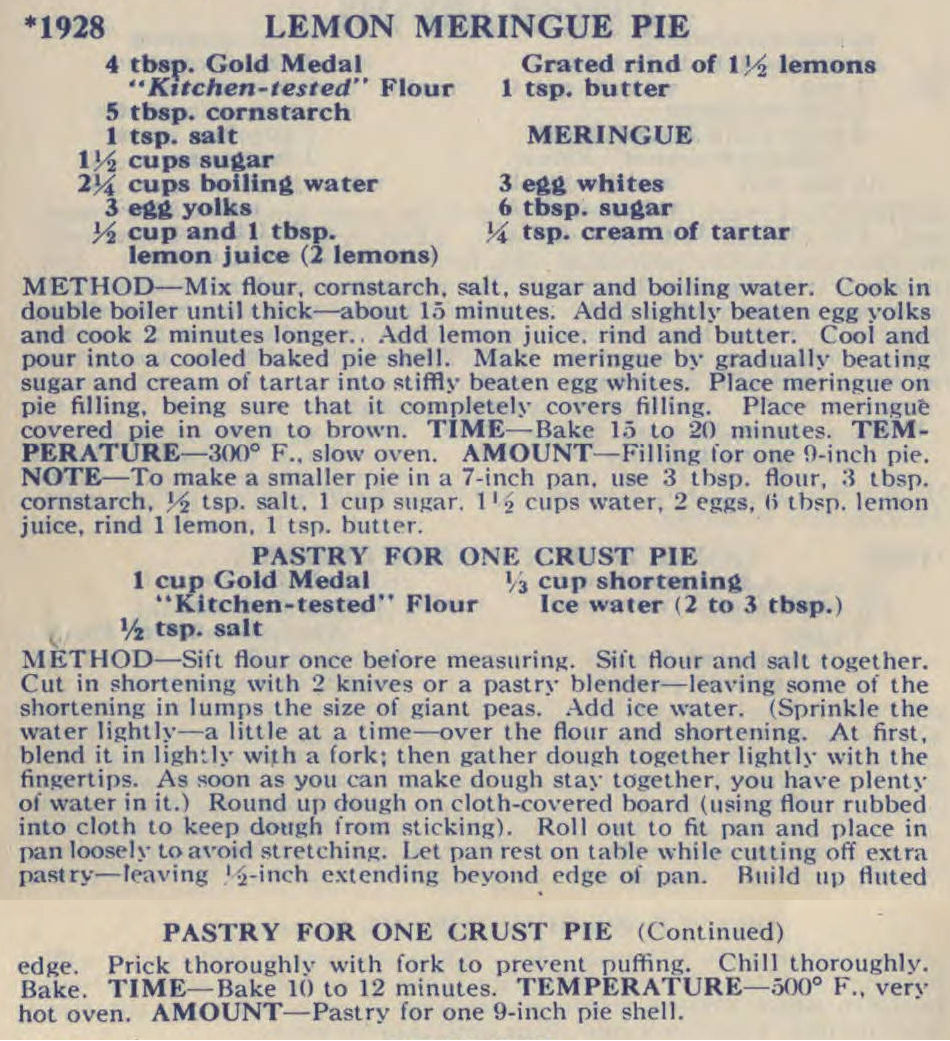 Transcription:

*1928 LEMON MERINGUE PIE
4 tbsp. Gold Medal
"Kitchen-tested" Flour
5 tbsp cornstarch
1 tsp. salt
1 1/2 cups sugar
2 1/4 cups boiling water
3 egg yolks
1/2 cup and 1 tbsp.
lemon juice (2 lemons)
Grated rind of 1 1/2 lemons
1 tsp. butter

MERINGUE

3 egg whites
6 tbsp. sugar
1/4 tsp. cream of tartar

METHOD—Mix flour, cornstarch, salt, sugar and boiling water. Cook in
double boiler until thick—about 15 minutes. Add slightly beaten egg yolks
and cook 2 minutes longer. Add lemon juice, rind and butter. Cool and
pour into a cooled baked pie shell. Make meringue by gradually beating
sugar and cream of tartar into stiffly beaten egg whites. Place meringue on
pie filling, being sure that it completely covers filling. Place meringue
covered pie in oven to brown. TIME—Bake 15 to 20 minutes. TEM-
PERATURE—300° F., slow oven. AMOUNT—Filling for 1 9-inch pie.
NOTE—To make a smaller pie in a 7-inch pan, use 3 tbsp. flour, 3 tbsp.
cornstarch, 1/2 tsp. salt, 1 cup sugar, 1 1/2 cups water, 2 eggs, 6 tbsp. lemon
juice, rind 1 lemon, 1 tsp. butter.

PASTRY FOR ONE CRUST PIE
1 cup Gold Medal
"Kitchen-tested" Flour
1/2 tsp. salt
1/3 cup shortening
Ice water (2 to 3 tbsp.)

METHOD—Sift flour once before measuring. Sift flour and salt together.
Cut in shortening with two knives or a pastry blender—leaving some of the
shortening in lumps the size of giant peas. Add ice water. (Sprinkle the
water lightly—a little at a time—over the flour and shortening. At first,
blend it in lightly with a fork; then gather dough together lightly with the
fingertips. As soon as you can make dough stay together, you have plenty
of water in it.) Round up dough on cloth-covered board (using flour rubbed
into cloth to keep dough from sticking). Roll out to fit pan and place in
pan loosely to avoid stretching. Let pan rest on table while cutting off extra
pastry—leaving 1/2-inch extending beyond edge of pan. Build up fluted

PASTRY FOR ONE CRUST PIE (Continued)

edge. Prick thoroughly with fork to prevent puffing. Chill thoroughly.
Bake. TIME—Bake 10 to 12 minutes. TEMPERATURE—500° F., very
hot oven. AMOUNT—Pastry for one 9-inch pie shell.
Version 2 (From 1950):

(Click to enlarge)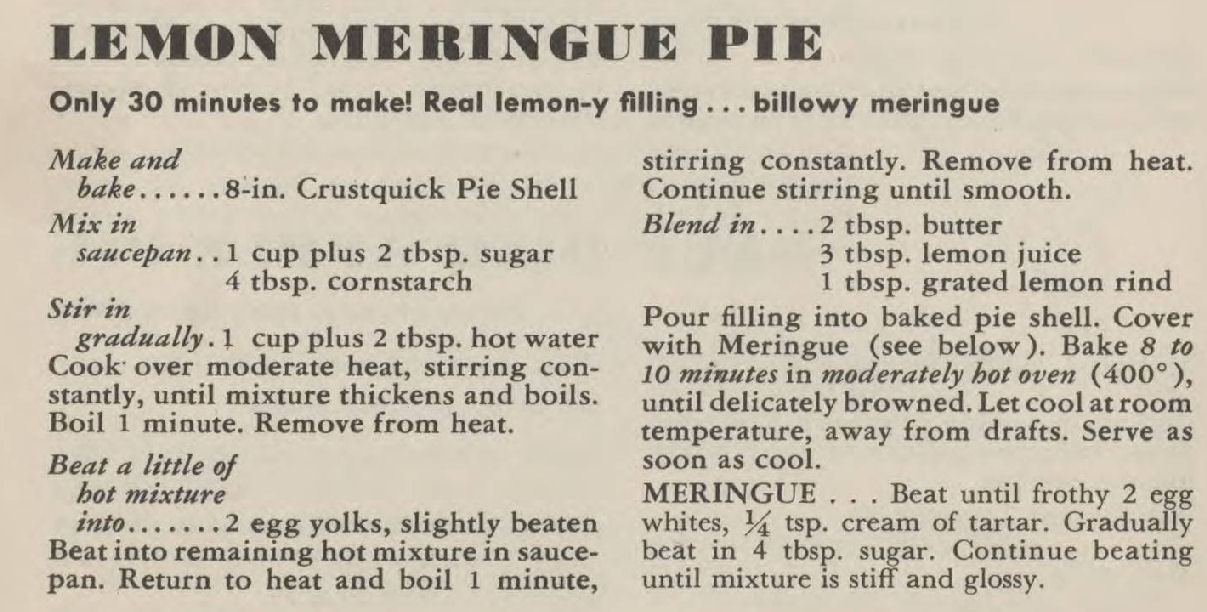 NOTE: This version includes the same ingredients as the previous recipe, but has been scaled down slightly to fit an 8" pie shell.