The Vintage Chiffon Cake Site
| Welcome | History | Before You Begin | The Original Recipe | Variations | Frostings/Icings, etc. | More Vintage Recipes | About This Site | Updates |
More Classic / Vintage Recipes
Betty Crocker
Hermits
(Click to enlarge)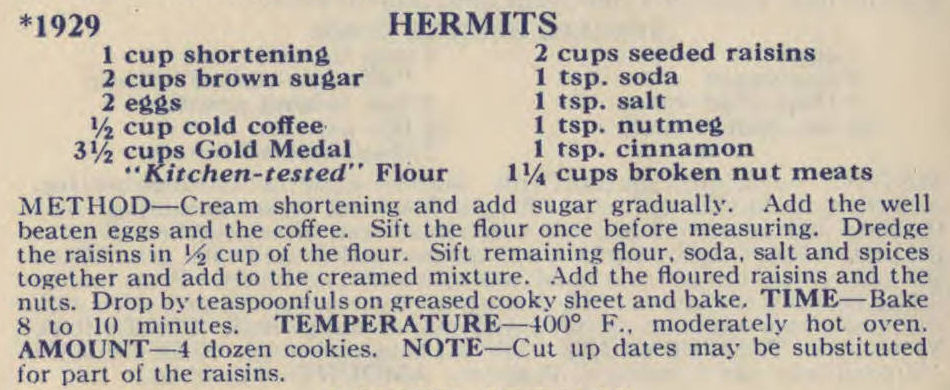 Transcription:

*1929 HERMITS
1 cup shortening
2 cups brown sugar
2 eggs
1/2 cup cold coffee
3 1/2 cups Gold Medal
"Kitchen-tested" Flour
2 cups seeded raisins
1 tsp. soda
1 tsp. salt
1 tsp nutmeg
1 tsp. cinnamon
1 1/4 cups broken nut meats

METHOD—Cream shortening and add sugar gradually. Add the well
beaten eggs and the coffee. Sift the flour once before measuring. Dredge
the raisins in 1/2 cup of the flour. Sift remaining flourr, soda, salt and spices
together and add to the creamed mixture. Add the floured raisins and the
nuts. Drop by teaspoonfuls on greased cooky sheet and bake. TIME—Bake
8 to 10 minutes. TEMPERATURE—400° F., moderately hot oven.
AMOUNT—4 dozen cookies. NOTE—Cute up dates may be substituted
for part of the raisins.