The Vintage Chiffon Cake Site
| Welcome | History | Before You Begin | The Original Recipe | Variations | Frostings/Icings, etc. | More Vintage Recipes | About This Site | Updates |
More Classic / Vintage Recipes
Betty Crocker
Haddon Hall Gingerbread
(Click to enlarge)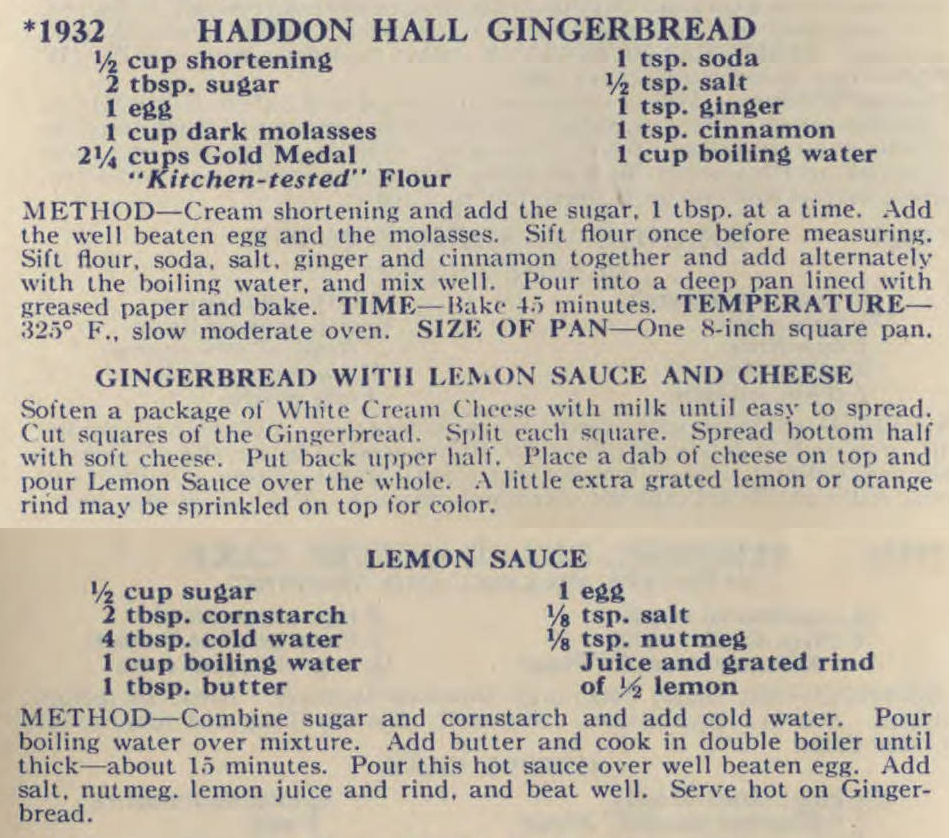 Transcription:

*1932 HADDON HALL GINGERBREAD
1/2 cup shortening
2 tbsp. sugar
1 egg
1 cup dark molasses
2 1/4 cups Gold Medal
"Kitchen-tested" Flour
1 tsp. soda
1/2 tsp. salt
1 tsp. ginger
1 tsp. cinnamon
1 cup boiling water

METHOD—Cream shortening and add the sugar, 1 tbsp. at a time. Add
the well beaten egg and the molasses. Sift flour once before measuring.
Sift flour, soda, salt, ginger and cinnamon together and add alternately
with the boiling water, and mix well. Pour into a deep pan lined with
greased paper and bake. TIME—Bake 45 minutes. TEMPERATURE—
325° F., slow moderate oven. SIZE OF PAN—One 8-inch square pan.

GINGERBREAD WITH LEMON SAUCE AND CHEESE

Soften a package of White Cream Cheese with milk until easy to spread.
Cut squares of the Gingerbread. Split each square. Spread bottom half
with soft cheese. Put back upper half. Place a dab of cheese on top and
pour Lemon Sauce over the whole. A little extra grated lemon or orange
rind may be sprinkled on top for color.

LEMON SAUCE
1/2 cup sugar
2 tbsp. cornstarch
4 tbsp. cold water
1 cup boiling water
1 tbsp. butter
1 egg
1/8 tsp. salt
1/8 tsp. nutmeg
Juice and grated rind of 1/2 lemon

METHOD—Combine sugar and cornstarch and add cold water. Pour
boiling water over miture. Add butter and cook in double boiler until
thick—about 15 minutes. Pour this hot sauce over well beaten egg. Add
salt, nutmeg, lemon juice and rind, and beat well. Serve hot on Ginger-
bread.

NOTE: The gingerbread portion of this recipe is exactly the same as the one used to make the Hot Gingerbread Ring with Applesauce. However, This version of the recipe adds serving options and a Lemon Sauce.