The Vintage Chiffon Cake Site
| Welcome | History | Before You Begin | The Original Recipe | Variations | Frostings/Icings, etc. | More Vintage Recipes | About This Site | Updates |
More Classic / Vintage Recipes
Betty Crocker


Ginger Creams (1929)

(Click to enlarge)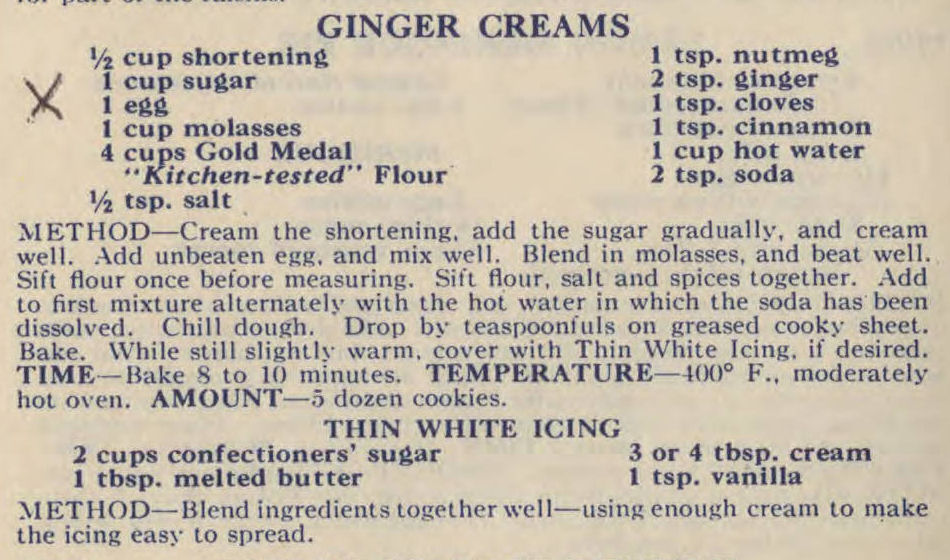 Transcription:

GINGER CREAMS
1/2 cup shortening
1 cup sugar
1 egg
1 cup molasses
4 cups Gold Medal
"Kitchen-tested" Flour
1/2 tsp. salt
1 tsp. nutmeg
2 tsp. ginger
1 tsp. cloves
1 tsp. cinnamon
1 cup hot water
2 tsp. soda

METHOD—Cream the shortening, add the sugar gradually, and cream
well. Add unbeaten egg, and mix well. Blend in molasses, and beat well.
Sift flour once before measuring. Sift flour, salt and spices together. Add
to first mixture alternately with the hot water in which the soda has been
dissolved. Chill dough. Drop by teaspoonfuls on greased cooky sheet.
Bake. While still slightly warm, cover with Thin White Icing, if desired.
TIME—Bake 8 to 10 minutes. TEMPERATURE—400° F., moderately
hot oven. AMOUNT—5 dozen cookies.
THIN WHITE ICING
2 cups confectioners' sugar
1 tbsp. melted butter
3 or 4 tbsp. cream
1 tsp. vanilla
METHOD—Blend ingredients together well—using enough cream to make
the icing easy to spread.

NOTE: This version of the recipe calls for DOUBLE the amounts of nearly all ingredients compared to the version below. It also uses melted butter in the glaze. The other does not.

Version 2 (1944)
(Click to enlarge)