The Vintage Chiffon Cake Site
| Welcome | History | Before You Begin | The Original Recipe | Variations | Frostings/Icings, etc. | More Vintage Recipes | About This Site | Updates |
More Classic / Vintage Recipes
Betty Crocker
Favorite Fudge Cake
(Click to enlarge)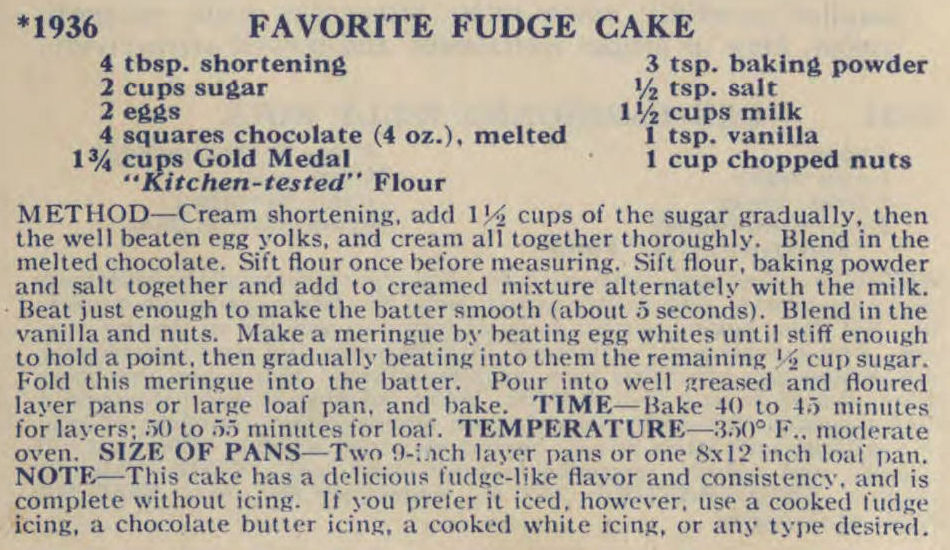 Transcription:

*1936 FAVORITE FUDGE CAKE
4 tbsp. shortening
2 cups sugar
2 eggs
4 squares chocolate (4 oz.), melted
1 3/4 cups Gold Medal
"Kitchen-tested Flour
3 tsp. baking powder
1/2 tsp. salt
1 1/2 cups milk
1 tsp. vanilla
1 cup chopped nuts

METHOD—Cream shortening, add 1 1/2 cups of the sugar gradually, then
the well beaten egg yolks, and cream all together thoroughly. Blend in the
melted chocolate. Sift flour once before measuring. Sift flour, baking powder
and salt together and add to cream mixture alternately with the milk.
Beat just enough to make the batter smooth (about 5 seconds). Blend in the
vanilla and nuts. Make a meringue by beating egg whites until stiff enough
to hold a point, then gradually beating into them the remaining 1/2 cup sugar.
Fold the meringue into the batter. Pour into well greased and floured
layer pans or large loaf pan, and bake. TIME—Bake 40 to 45 minutes
for layers; 50 to 55 minutes for loaf. TEMPERATURE—350° F., moderate
oven. SIZE OF PANS—Two 9-inch layer pans or one 8x12 inch loaf pan.
NOTE—This cake has a delicious fudge-like flavor and consistency, and is
complete without icing. If you prefer it iced, however, use a cooked fudge
icing, a chocolate butter icing, a cooked white icing, or any type desired.