The Vintage Chiffon Cake Site
| Welcome | History | Before You Begin | The Original Recipe | Variations | Frostings/Icings, etc. | More Vintage Recipes | About This Site | Updates |
More Classic / Vintage Recipes
Betty Crocker
Calico Quilt Cake
(Click to enlarge)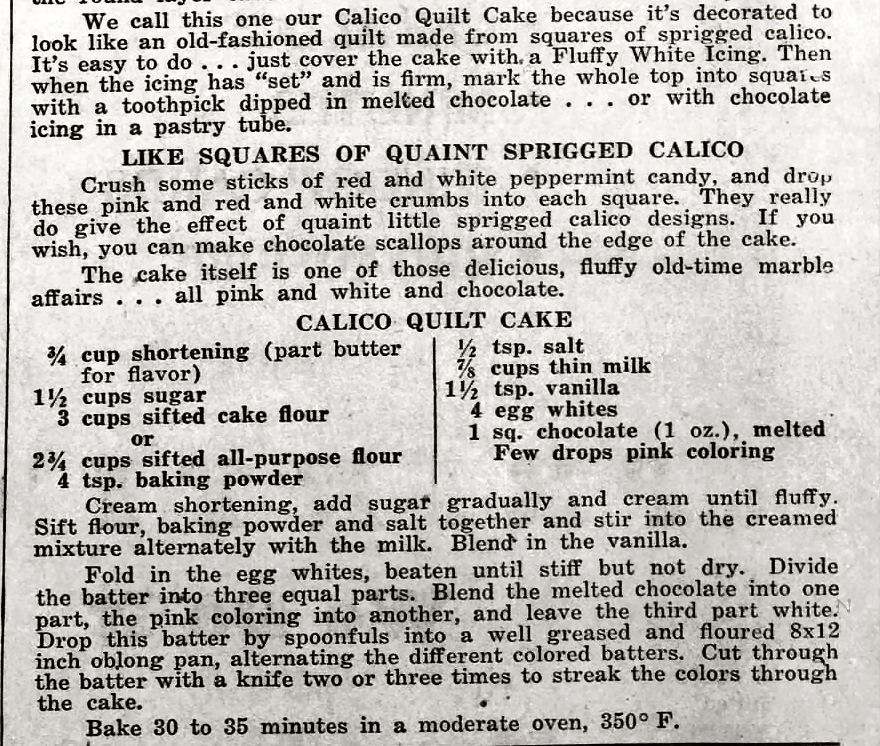 Transcription:

We call this one our Calico Quilt Cake because it's decorated to
look like an old-fashioned quilt made from squares of sprigged calico.
It's easy to do . . . just cover the cake with a Fluffy White Icing. Then
when the icing has "set" and is firm, mark the whole top into squares
with a toothpick dipped in melted chocolate . . . or with chocolate
icing in a pastry tube.

LIKE SQUARES OF QUAINT SPRIGGED CALICO

Crush some sticks of red and white peppermint candy, and drop
these pink and red and white crumbs into each square. They really
do give the effect of quaint little sprigged calico designs. If you
wish, you can make chocolate scallops around the edge of the cake.
The cake itself is one of those delicious, fluffy old-time marble
affairs . . . all pink and white and chocolate.

CALICO QUILT CAKE

3/4 cup shortening (part butter
for flavor)
1 1/2 cups sugar
3 cups sifted cake flour
or
2 3/4 cups sifted all-purpose flour
4 tsp. baking powder
1/2 tsp. salt
7/8 cups thin milk
1 1/2 tsp. vanilla
4 egg whites
1 sq. chocolate (1 oz.), melted
Few drops pink coloring

Cream shortening, add sugar gradually and cream until fluffy.
Sift flour, baking powder and salt together and stir into the creamed
mixture alternately with the milk. Blend in the vanilla.

Fold in the egg whites, beaten until stiff but not dry. Divide
the batter into three equal parts. Blend the melted chocolate into one
part, the pink coloring into another, and leave the third part white.
Drop the batter by spoonfuls into a well greased and floured 8x12
inch oblong pan, alternating the different colored batters. Cut through
the batter with a knife two or three times to streak the colors through
the cake.

Bake 30 to 35 minutes in a moderate oven, 350° F.
NOTE: I'm including a transcription of this recipe, even though it is redable when the image is maximized, due to the fact that it was IMPOSSIBLE to find through regular (or image-based) searches. Two other versions of this recipe confirm that the amount of all-purpose flour used IS 2 3/4 cups (I realize that part is a tad hard to read). However, this version of the recipe was the most readaable so I went with it.
SOURCE: McComb Daily Journal (McComb, Mississippi) · Wed, Sep 4, 1940 · Page 4