The Vintage Chiffon Cake Site
| Welcome | History | Before You Begin | The Original Recipe | Variations | Frostings/Icings, etc. | More Vintage Recipes | About This Site | Updates |
More Classic / Vintage Recipes
Betty Crocker
"Busy Day" Cake
(Click to enlarge)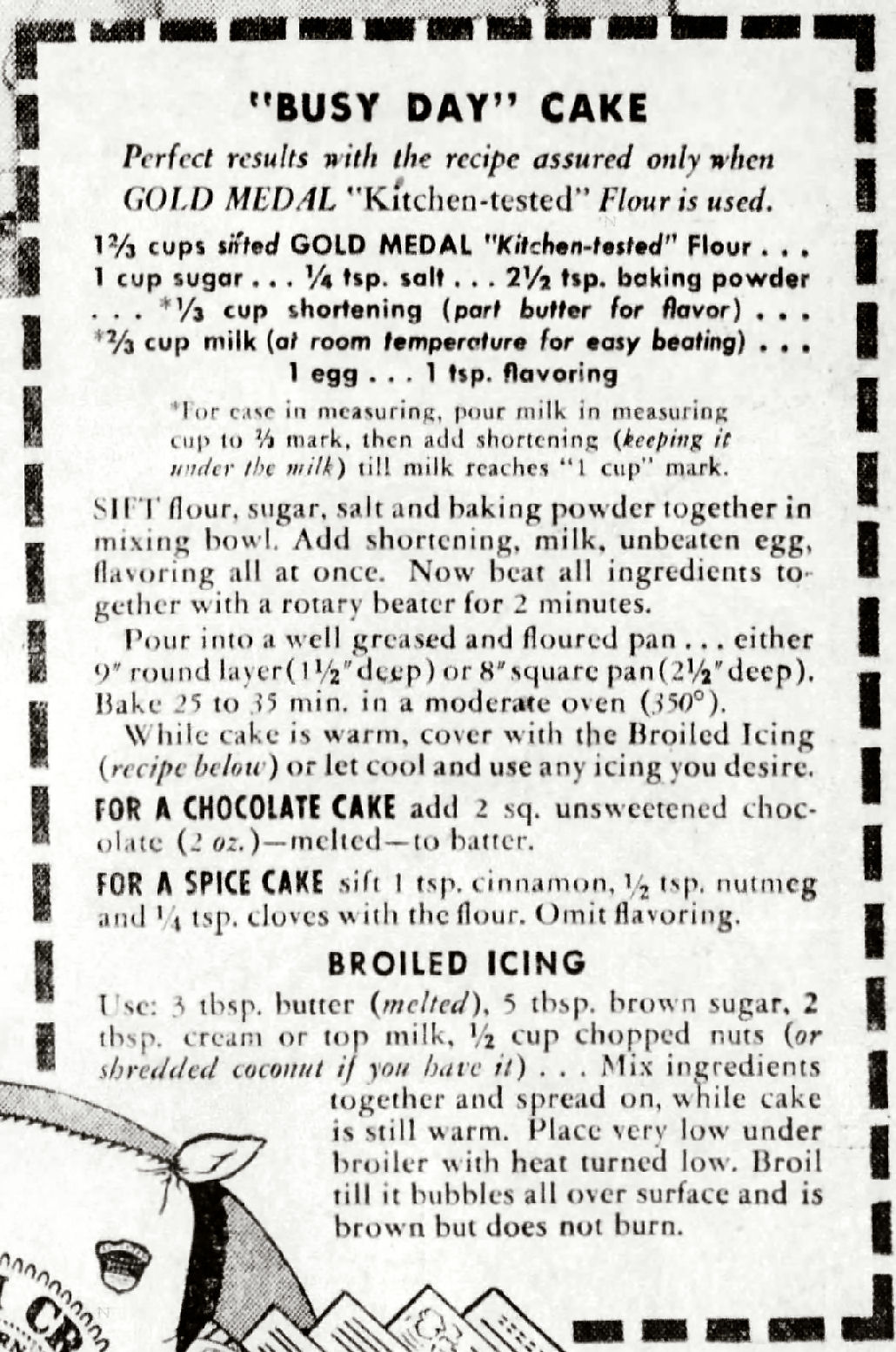 Transcription:

"BUSY DAY" CAKE

Perfect results with the recipe assured only when
GOLD MEDAL "Kitchen-tested" Flour is used.

1 2/3 cups sifted GOLD MEDAL "Kitchen-tested Flour . . .
1 cup sugar . . . 1/4 tsp. salt . . . 2 1/2 tsp. baking powder
. . . *1/3 cup shortening (part butter for flavor) . . .
2/3 cup milk (at room temperature for easy beating) . . .
1 egg . . . 1 tsp. flavoring

*For ease in measuring, pour milk in measuring
cup to 2/3 mark, then add shortening (keeping it
under the milk) till milk reaches "1 cup" mark.

SIFT flour, sugar salt and baking powder together in
mixing bowl. Add shortening, milk, unbeaten egg,
flavoring all at once. Now beat all ingredients to-
gether with a rotary beater for 2 minutes.
Pour into a well greased and floured pan . . . either
9" round layer (1 1/2" deep) or 8" square pan (2 1/2" deep).
Bake 25 to 35 min. in a moderate oven (350°).
While cake is warm, cover with the Broiled Icing
(recipe below) or let cool and use any icing you desire.

FOR A CHOCOLATE CAKE add 2 sq. unsweetened choc-
olate (2 oz.)—melted—to batter.

FOR A SPICE CAKE sift 1 tsp. cinnamon, 1/2 tsp. nutmeg
and 1/4 tsp. cloves with the flour. Omit flavoring.

BROILED ICING

Use 3 tbsp. butter (melted), 5 tbsp. brown sugar, 2
tbsp. cream or top mlik, 1/2 cup chopped nuts (or
shredded coconut if you have it) . . . Mix ingredients
together and spread on, while cake
is still warm. Place very low under
broiler with heat turned low. Broil
till it bubbles all over surface and is
brown but does not burn.
NOTE: I'm including a transcription of this recipe, even though it is readable when the image is maximized, due to the fact that it was IMPOSSIBLE to find through regular (or image-based) searches.
SOURCE: The Town Talk (Alexandria, Louisiana) · Fri, Jan 14, 1944 · Page 7