The Vintage Chiffon Cake Site
| Welcome | History | Before You Begin | The Original Recipe | Variations | Frostings/Icings, etc. | More Vintage Recipes | About This Site | Updates |
More Classic / Vintage Recipes
Betty Crocker
Blitz Torte
(Click to enlarge)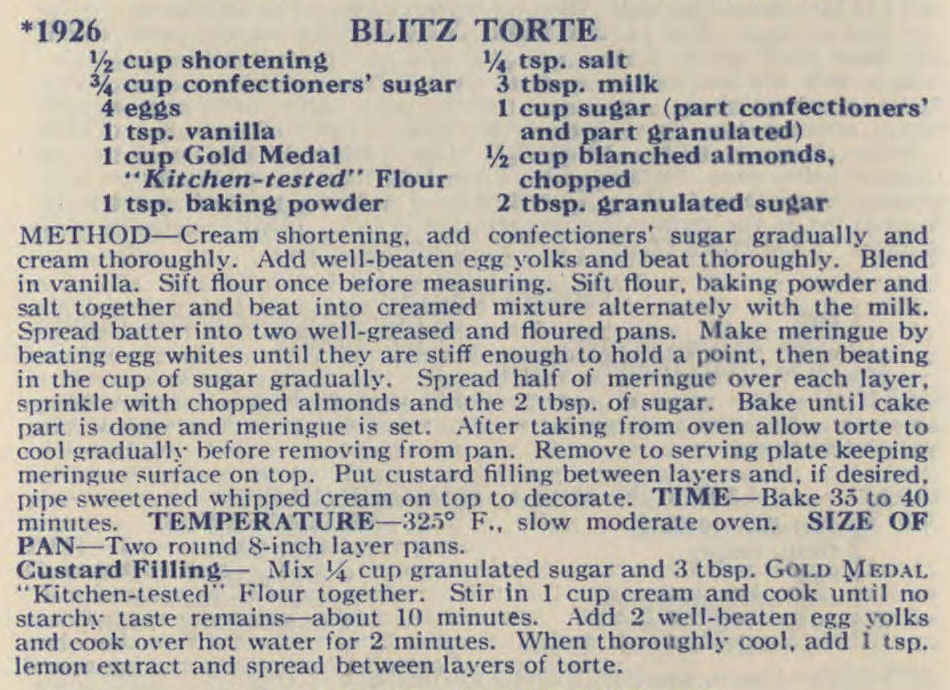 Transcription:

*1926 BLITZ TORTE
1/2 cup shortening
3/4 cup confectioners' sugar
4 eggs
1 tsp. vanilla
1 cup Gold Medal
"Kitchen-tested" Flour
1 tsp. baking powder
1/4 tsp. salt
3 tbsp. milk
1 cup sugar (part confectioners'
and part granulated
1/2 cup blanched almonds,
chopped
2 tbsp. granulated sugar

METHOD—Cream shorteing, add confectioners' sugar gradually and
cream thoroughly. Add well-beaten egg yolks and beat thoroughly. Blend
in vanilla. Sift flour once before measuring. Sift flour, baking powder and
salt together and beat into creamed mixture alternately with the milk.
Spread batter into two well-greased and floured pans. Make meringue by
beating egg whites until they are stiff enough to hold a point, then beating
in the cup of sugar gradually. Spread half of meringue over each layer,
sprinkle with chopped almonds and the 2 tbsp. of sugar. Bake until cake
part is done and meringue is set. After taking from oven allow torte to
cool gradually before removing from pan. Remove to serving plate keeping
meringue surface on top. Put custard filling between layers and, if desired,
pipe sweetened whipped cream on top to decorate. TIME—Bake 35 to 40
minutes. TEMPERATURE—325° F., slow moderate oven. SIZE OF
PAN—Two round 8-inch layer pans.
Custard Filling— Mix 1/4 cup granulated sugar and 3 tbsp. GOLD MEDAL
"Kitchen-tested" Flour together. Stir in 1 cup cream and cook until no
starchy taste remains—about 10 minutes. Add 2 well-beaten egg yolks
and cook over hot water for 2 minutes. When thoroughly cool, add 1 tsp.
lemon extract and spread between layers of torte.