The Vintage Chiffon Cake Site
| Welcome | History | Before You Begin | The Original Recipe | Variations | Frostings/Icings, etc. | More Vintage Recipes | About This Site | Updates |
More Classic / Vintage Recipes
Betty Crocker
Apple Pie with Cheese Crust
(Click to enlarge)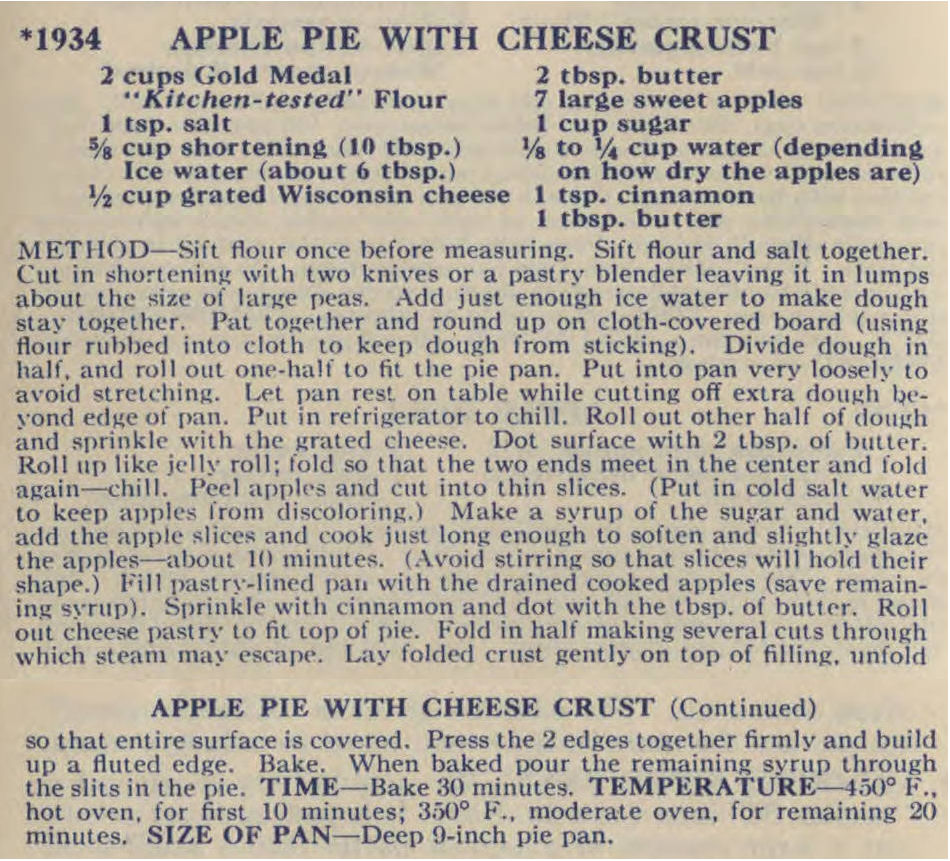 Transcription:

*1934 APPLE PIE WITH CHEESE CRUST
2 cups Gold Medal
"Kitchen-tested" Flour
1 tsp. salt
5/8 cup shortening (10 tbsp.)
Ice water (about 6 tbsp.)
1/2 cup grated Wisconsin cheese
2 tbsp. butter
7 large sweet apples
1 cup sugar
1/8 to 1/4 cup water (depending
on how dry the apples are)
1 tsp. cinnamon
1 tbsp. butter

METHOD—Sift flour once before measuring. Sift flour and salt together.
Cut in shortening with two knives or a pastry blender leaving it in lumps
about the size of large peas. Add just enough ice water to make dough
stay together. Pat together and round up on cloth-covered board (using
flour rubbed into cloth to keep dough from sticking). Divide dough in
half, and roll out one-half to fit the pie pan. Put into pan very loosely to
avoid stretching. Let pan rest on table while cutting off extra dough be-
yond edge of pan. Put in refrigerator to chill. Roll out other half of dough
and sprinkle with the grated cheese. Dot surface with 2 tbsp. of butter.
Roll up like jelly roll; fold so that the two ends meet in the center and fold
again—chill. Peel apples and cut into thin slices. (Put in cold salt water
to keep apples from discoloring.) Make a syrup of the sugar and water,
add the apple slices and cook just enough to soften and slightly glaze
the apples—about 10 minutes. (Avoid stirring so that slices will hold their
shape.) Fill pastry-lined pan with the drained cooked apples (save remain-
ing syrup). Sprinkle with cinnamon and dot with the tbsp. of butter. Roll
out cheese pastry to fit top of pie. Fold in half making several cuts through
which steam may escape. Lay folded crust gently on top of filling, unfold

APPLE PIE WITH CHEESE CRUST (Continued)

so that entire surface is covered. Press the 2 edges together firmly and build
up a fluted edge. Bake. When baked pour the remaining syrup through
the slits in the pie. TIME—Bake 30 minutes. TEMPERATURE—450° F.,
hot oven, for first 10 minutes; 350° F., moderate oven, for remaining 20
minutes. SIZE OF PAN—Deep 9-inch pie pan.